At CVC, we provide a full turnkey solution. Partnering with Brink Climate Systems the leading brand in MVHR unit, we design, supply, install and commission all of our systems. We guarantee to ensure that the system that our experienced team provides, truly works as efficiently and quietly as possible.
There is no point in buying a ventilation system without design and technical support. Our team of highly qualified technicians are on hand to answer any questions and our own in-house design department can design and amend your heating and cooling system so that it's unique to your home.
CVC offers free detailed 3D plans and specifications for our bespoke heat recovery ventilation systems in the UK. The ventilation designs are created by our in-house design team and any modifications or adjustments can be revised to suit our customers' needs. CVC also has options available for heating and cooling.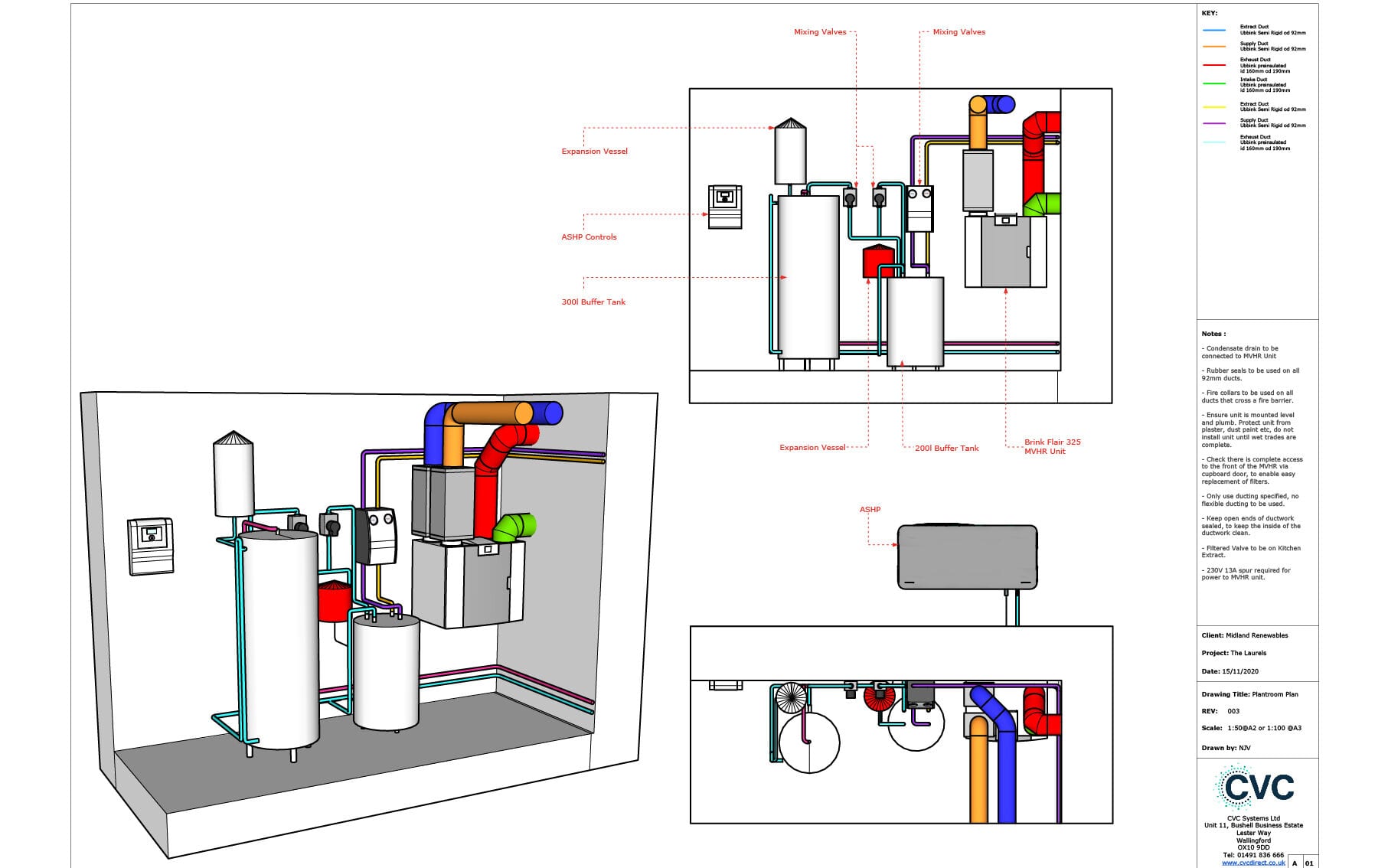 When designing and specifying a system, CVC will adhere to both the Passivhaus standard and Part F. Correct specification and design is very important, in order for the system to run quietly, which is especially important with modern well insulated buildings. CVC won't under specify a system in order to win on price, all too often MVHR units are under specified and forced to run at high capacity, the outcome of this is a noisy and inefficient system. Typically we aim for 50-60% of the units maximum capacity for normal ventilation, allowing for sufficient boost ventilation.
It is just as important to design and size the ducting correctly and use the correct ducting. Trying to push too much air down a small duct means high velocities, increased pressure on the system and increased noise. Unnecessary bends, sharp bends and corrugated ducting also result in higher levels of resistance in the MVHR system, which increases the noise from the unit and turbulent noise generated by the airflow. At CVC we design the air velocities to be below 2m/s at normal operation, to maintain these velocities we recommend the 92mm semi-rigid ducting, rather than the commonly used 75mm. If we supply a rigid system, we would use steel rather than a pvc system, for its increased performance characteristics.
CVC will always specify rigid primary attenuators, to help reduce any noise generated from the machine and if a rigid system is used, cross talk attenuators will also be specified. Far to often we see inadequate flexible attenuation used, which is either used inappropriately or later becomes damaged, which in turn creates noise problems. By considering noise and attenuation at design stage, CVC aim for noise levels of below 30dB(A) at extract points and below 25dB(A) at supply points.
Free Design and Quote Service
With every project, we offer a free design and quote service tailored to your needs. Working alongside other contractors involved in your project, whatever the build. We always ensure the best and most energy-efficient solution is provided for your needs.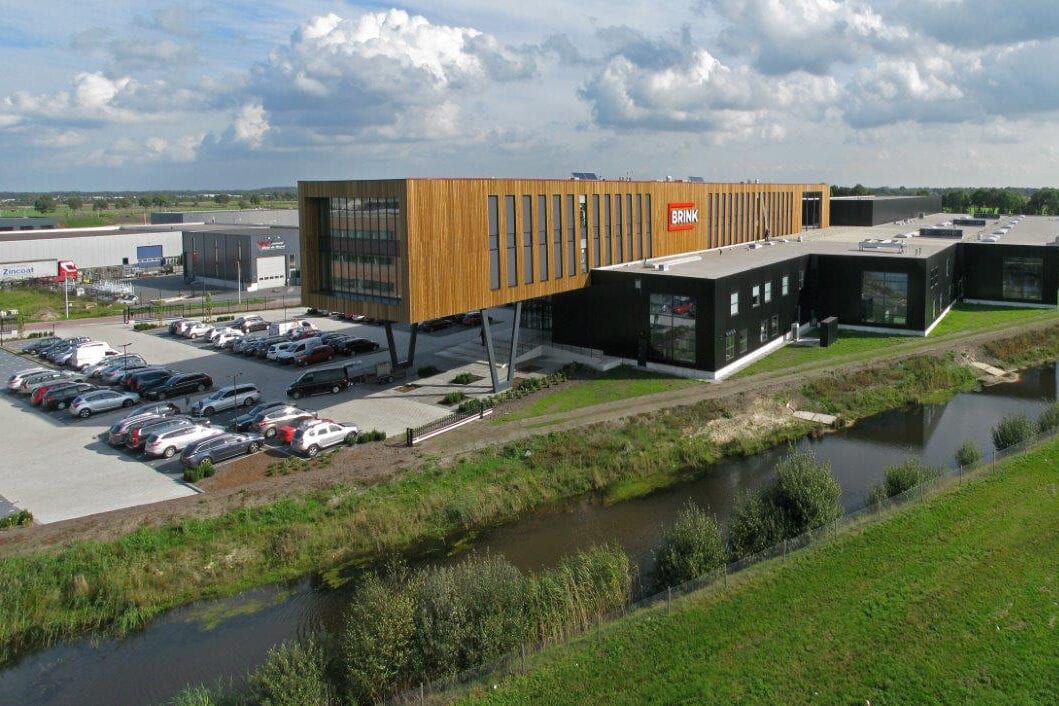 Supply
CVC is the UK supplier of Brink Climate Systems, Passivhaus certified MVHR units, and Ubbink semi-rigid ducting systems. CVC won't compromise on quality, which is why we have chosen to partner with the these two brands, CVC won't sell untested or cheap imports.
We carry a large stockholding of units and ducting systems within our UK warehouse and are able to provide full systems or parts at very short notice. All our system quotes include everything needed for the complete install.
CVC carries all serviceable parts and have qualified engineers capable of servicing and maintaining all our systems.
On placing your order CVC will liaise with the appointed site contact to ensure items are delivered at a time that suits you. If CVC are employed to carry out the installation, items are sent to site in advance, to allow for a smooth installation, with no delays.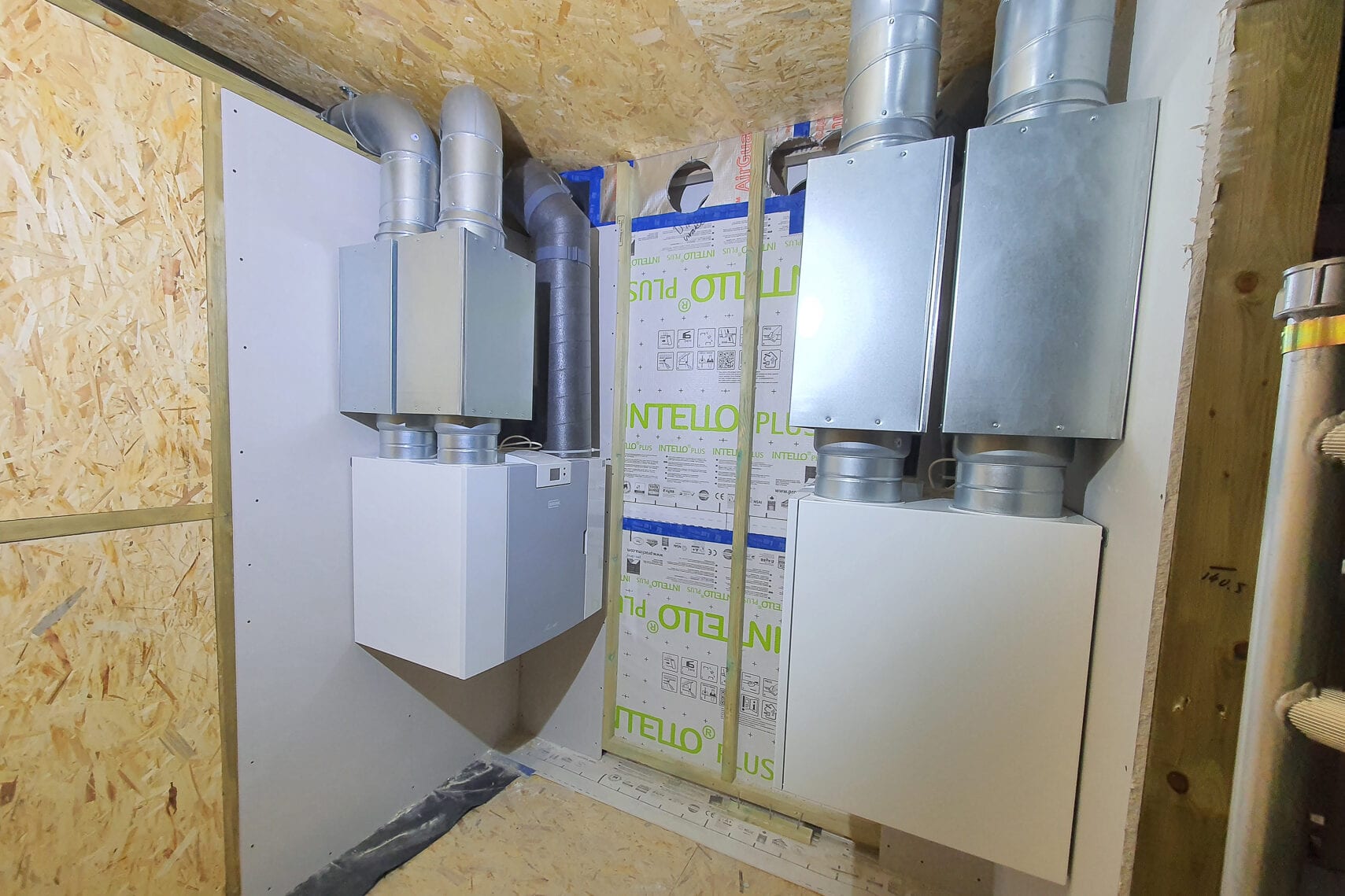 Install
CVC has a team of national installers positioned around the UK, we can provide installation of all our systems wherever your build may be. CVC install teams are trained and managed by an experienced contracts manager, with technical support provided CVC mechanical engineers.
CVC installers are employed directly by the company, unlike a lot of our competitors who farm the work out to the cheapest subcontractor, CVC takes full responsibility.
Whilst a confident self-builder could undertake the install themselves, or a tradesperson with a bit of experience, we suggest airing on the side of caution. The MVHR system will provide the air that you and your family breathe, it is important that it is installed properly. CVC engineers spend a considerable amount of time rectifying poor installations.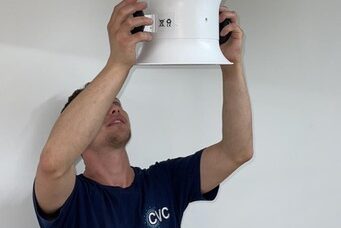 Commission
At CVC, the commissioning process is carried out by a BPEC-qualified technician. This includes setting up the MVHR unit and balancing the valves to ensure the correct airflow rates as per the design. The CVC Engineer will demonstrate the controls, use, and maintenance of the system to the customer. Ensuring that the bespoke home ventilation system is working efficiently and quietly.
FAQs
We offer the whole package, from design, supply to installation. If you want to install the ducting yourself we can commission the system for you.
We supply to England, Wales & Scotland, excluding Northern Ireland. Our installers can cover England, South Wales, excluding Scotland, The Scottish Highlands and Islands.
Yes, at CVC Ltd, our servicing teams cover England, South Wales, excluding Scotland, the Scottish Highlands and Islands.
Our initial quotations and layouts are free. These will give you an idea of the size of which of the heat recovery ventilation systems you will need for your project and the drawings will show a suggested location for valves or sockets. If you would like a duct plan we would take a deposit which would be reimbursed when the order is placed.
Smaller items are sent by courier, while larger items are palletised. If there is a problem with access let us know and we can organise alternative delivery arrangements.
Whole systems take time to pack and despatch, we require 10 working days to ensure we have your order ready. Ducting and component orders can be sent next day delivery if we receive the order before 11am.
Any discrepancy or damage to the order must be reported within 3 working days. No responsibility can be accepted after that time.
CVC Knowledge
CVC Ltd specialise in Mechanical Ventilation and Heat Recovery Ventilation. As Passivhaus Trust Members, CVC Ltd understands that the requirements for a Passivhaus are different from that of a standard build. Don't let ventilation be the last thing that you think about when building your dream home!